Disney & Google Present
In search of his lost soul mate, an unpainted Vinylmation finds himself on a quest that alters the destiny of his entire world. Blank is an epic adventure in miniature scale. An original, heartwarming love story filmed entirely in practical stop-motion.
World Premiere of Blank
Blank premiered at the El Capitan theater in Hollywood as a double-feature alongside a special anniversary screening of the classic Disney film, Lady & the Tramp. Its theatrical run was extended, screening after each showing of Frozen, which ran for several months.
The below video was taken during a special cast, crew & family screening on the Disney Lot.
Group photo, from left to right (back row): Alfred Montejano, Mike Ambs, Alfonzo Estrada, Paul Foyder, Matt Wyatt, Thomas Scott, (front row): Whitfield Scheidegger, Matt Manning, Gino Roy, Greg Shewchuk.
This is the story behind Blank ↴
The Beginning
The story behind Blank will always be something very special to me - a reminder of what is possible (even within a company the size of Disney) when a small group of friends come together and fight for a story they believe is worth telling.
It was July, 2012, and our small production studio in Burbank had just come in under budget on the last handful of wrapped projects - meaning we were left with roughly $300 petty cash to spend on, well, anything we wanted as long as it resulted in an idea.
We spent the morning storyboarding an original idea making use of some unpainted Vinylmation characters we had laying around the office, made the most of that afternoon rummaging through hobby shops throughout the valley, and spray-painted some form board we found in the props closet. Little did we know that the short stop-motion film we put together in a night would become the next few years of our lives.
The week of July 22nd, our first night of filming the pilot - overall, Blank took several hours (after our offices closed) to complete.
Wrapping up shooting, and presenting Blank to Erica, one of the first people outside of our immediate team to see the short.
Greenlight
Blank is given the go ahead as an 8-part online series.
Only a handful of months after filming our pilot film, the team was given a small budget to expand the world of Blank into a nearly 40 minute storyline. So began long, thrilling days of writing, drawing, and researching - throwing ourselves into the world of stop-motion filmmaking.
There were five of us who collaboratively directed this film - Paul Foyder, Regino Roy III, Whitfield Scheidegger, Greg Shewchuk, and myself - and each of us were working in stop-motion for the first time. Which meant every little thing we did was a learning experience.
Below is a short video that Gino edited of our experience and process on Blank.
The World of Blank
A miniature world within Walt Disney's original Anaheim vision.
Each scene and location in Blank is mapped directly overtop of Disneyland - we kept the scale of the park as is, and since our characters are only 3 inches tall a trip from the Paint Factory to the Fix-it Factory (roughly following the train tracks behind the Jungle Cruise to Toon Town) is quite an adventure. If a follow-up to Blank ever moves forward, we will finally be introduced to the Main St. of this world, a sprawling city full of every shape, style and size of Vinylmation characters.
Vinyl Art Dept.
The "War Room", as it was dubbed during its initial purpose (another story for another time), was a large open room with light panels and projector screens on all sides, this large unused room became Gino's personal Art Dept during production.
The giant 25 foot conference table became a dozen different work stations, where, at any given time, different characters were being hand-painted, monorail train cars were being finalized, clay became trees - every piece of Blank, much like the world of Blank, was repurposed items or scraps of materials that could be turned into something more.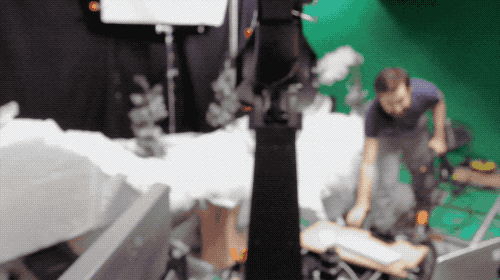 Old School / New School
Everything we did - every problem we needed to find a solution for - was a completely new thing for us as stop-motion filmmakers, from something as simple as rigging the Vinylmations with armature, creating a waterfall and clouds, to as complex as filming a 40 foot long hang-gliding one-shot down the side of a snow-covered mountain top.
We used a combination of new tech - such as 'Curtis', our Volo (the 2nd one ever built), as well as old tricks, including matte painting on glass, colored gels for our fire, and paper mache for our landscapes. We were inspired to do everything practically, no computer effects were used in the production of Blank. We even found a way of making the fireworks using practical effects.
I fell in love with stop-motion during the production of Blank.
Stage 2
The vast majority of Blank was filmed in a large Burbank studio, far away from the prying eyes of Disney HQs.
Disney Blank with Google
A digital experience for Valentine's day, celebrating the exclusive launch of Disney's new short film, Blank, on Google Play.
The project was featured on the Google homepage
With Blank becaming the most downloaded movie on Google Play.
5000 printed cards were created in the first 24 hours, and over 95,000 digital cards were sent out during the campaign. This equated to over 2,000,000 brand engagement minutes, with over 1,500,000 unique visitors.