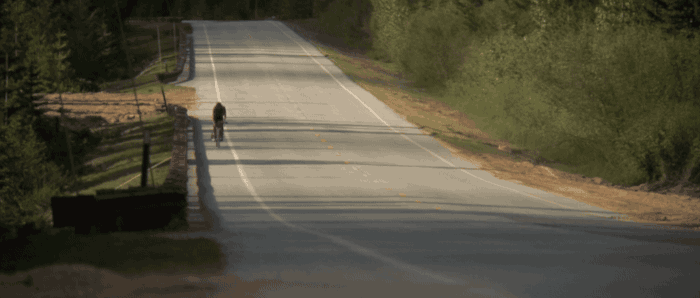 WORLD-WIDE, DRM-FREE RELEASE. FREE TO SHARE, FREE TO DOWNLOAD, FREE TO REMIX. FREE.
You can purchase the film's bonus content, unlocking an exclusive 10 min conversation about the film's most difficult / dangerous shot, and an audio commentary with director Mike Ambs and producer Erica Hampton.
Part of him had been expecting something profound to be waiting at the ocean, but, in many ways, it never came.
Straddling the line between documentary and fiction, FOR THOUSANDS OF MILES is a unique road movie covering one man's bicycle journey across America in search of something meaningful. First-time director Mike Ambs delivers a visually stunning reflection on coming-of-age while exploring the vast promise of the American landscape.
For Thousands of Miles shares the story of a young man's forty-two hundred mile bicycle ride across the Northern United States; Larry McKurtis, at the age of 26, left for the Atlantic ocean, leaving behind the small town he had always known, in search of new things; new people; new places.
In his mind he had always imagined the road to be full of adventure and happenstance, which it was, but in ways that were often unnoticeable to the passing traffic; the summer sunsets would burn colors in the horizon Larry would later be unable to describe; the fireflies would weave in and out of the tall midwest fields, with no one there to share in every detail of the world around him. The loneliness of the open road left him feeling alive, awake - himself in ways he was never able to be before.
After 64 days, he reached the Atlantic, an ocean he had never before seen - and just as quickly and quietly as his trip had begun, it was over. His bed was just the way he had left it, the small town he had spent all his life in hadn't changed an inch, but everything and everyone around him felt foreign for the first time.
What the young man never anticipated, was just how long his trip would go on after the road had come to an end.
DIRECTOR'S STATEMENT
A Deeply Personal Film
My first feature-film. This hybrid-documentary has been an overwhelming force in my life, a labor-of-love 7 years in the making. For Thousands of Miles was inspired by my own 4,200 mile bicycle trip, which I took when I was just 21 years old... after I returned home to my small town, I couldn't shake this strange feeling... whatever it was, it lingered for years and years after the road had ended.
Many years after my own trip, I happened across this quote,
It was this slow, disconnected, post-voyage experience that I wanted to visually and tonally articulate. The film is less a road-trip film, and more a reflection on what the road represents.
Original Score by Eluvium
The Role That Music Plays
Not many documentaries are known for their beautiful original scores – at least when compared to the long list of narrative film scores – a few personal favorites that come to mind are 'Fog of War', and 'Thin Blue Line' (both of which were done by Philip Glass), there's also the 2004 documentary 'Tarnation', which has an amazing theme written by Max Avery Lichtenstein.
I knew long before production ever began, that this film would rely heavily on music, if not for any other reason than the main idea behind the film boiled down to two simple but opposing things: 1) the wide, birds eye view of a biker alone on the open road, and 2) the "sound" of missing that experience long after it's over.
Whatever that sound was, I wouldn't have been able to tell you at the time, but I knew the way I felt about missing my own cross country bicycle experience, that feeling of nostalgia was musical in a way that I could never place.